We've always believed that fresh produce is the healthiest and smartest way to feed any family. That's why we started one of the first community supported agriculture (CSA) programs in northeastern Maryland, and why it's grown to feed so many Maryland families since. There's nothing better than fresh-picked Maryland produce harvested right at the height of the season – all season long!
About our Northern Maryland CSA
Community Supported Agriculture (CSA) is a means of purchasing fresh food directly from a local farm. The consumer buys a share of what the farm raises prior to the growing season. In turn, the shareholder receives weekly distributions of produce as the season progresses.
Fresh, safe food is becoming a scarcity in our lives. The majority of produce in today's grocery store has traveled on an average of 1,300 miles from its source and is several days old before reaching the store shelf. Buying locally ensures you of fresh food; it ensures the viability of local farms, preservation of open space and keeps purchasing power in the local economy.
Looking for the Best Maryland CSA Program? Look No Further Than Brad's Farm Market!
You're in the right place! Scroll down to select the CSA Share that's right for you.
There are two ways to join our CSA program, Sign up online, or print and complete your CSA Registration Form. If you choose to print out the form, please mail the form with payment to Brad's Farm Market, 550 Asbury Road, Churchville, MD 21028.
There is a convenience fee for online orders to cover credit card processing fees.
When you join you will receive an email confirming your CSA purchase.
You will also receive an email reminding you when it's time for your CSA Share pickups to start, about a week prior to the first day.
Egg Shares are sold out for the 2023 season.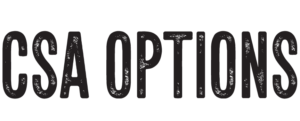 Brad's Farm Market 2023 Harford County MD CSA
Pickup Days – Weekly-half- Tuesdays 10:00 a.m. to 5:30 p.m.
Full and summer- Thursdays 10:00 am to 5:30 pm
There is a convenience fee for online orders to cover credit card processing fees.

Brad's Farm Market CSA FAQs
CSA Testimonials
Always fresh, homegrown produce, we have been buying straight from the farm for 10 years now. As a matter of fact we just came home with our "first" tomatoes of the Summer, now it's a ritual every Sunday till Fall. It's worth the trip. !!!
We have been CSA members at Brad's for five years and we love it! The fresh produce is always fantastic and the wonderful people that work at Brad's make every visit enjoyable. There are many options when choosing your produce each week so you can pick items based on what your family likes. There are always wonderful recipes too. We love supporting a local farm!
This local farm has great produce priced reasonably. They grow and sell normal items which is helpful and makes their CSA attractive. They have pick-your-own strawberries in May which were the best. We have picked at a few farms and these strawberries were amazing!
We LOVE Brad's Produce!! It is absolutely the BEST place to buy local produce. The staff is always so nice and very helpful. They always have a nice selection of fresh picked produce and lots of other delicious items as well. Our most favorite time of the year is during pick your own strawberries! You can't beat their CSA.