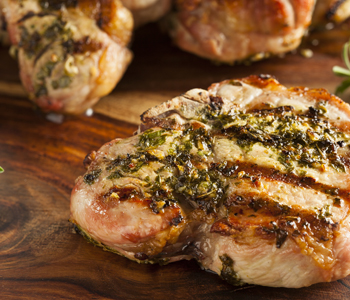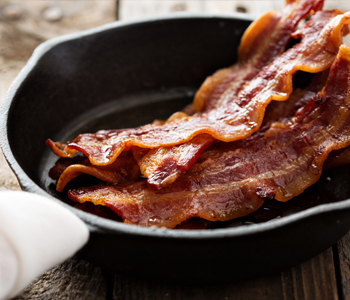 Brad's Farm Market started raising pigs at our farm in Darlington, Maryland in 2014. Pigs were added soon after we started raising cattle in 2013 and were a natural fit with the Angus beef, variety of produce, and other items we sell. We raise Berkshires, Hampshires, Spots and Chesters — all known for producing delicious pork. Our pigs are grain-fed and have no added hormones, steroids or antibiotics. Brad's truly produces all-natural pork products.
Brad's Farm Market Premier Pork may be purchased in retail cuts or in wholesale/bulk quantities for folks who like to "fill their freezer" with high quality locally grown meats throughout the year.
Retail
Retail cuts (ham, ham slices, ham hocks, pork chops, tenderloin, scrapple, ground pork, sausage, bacon, pork shoulders, pork roasts, lard, etc.) may be purchased at Brad's Farm Market in Churchville info@bradsfarmmarket.com.
Wholesale/Bulk "Fill Your freezer"
Wholesale/bulk portions may be purchased in advance as a half pig at $2.50 per pound or as a whole pig at $2.35 per pound. Pigs are sold in halves or whole.
Prices do not include butchering fees, which are additional cost and paid directly to the butcher. These prices vary depending on the cuts you choose. An approximate butchering fee for a whole would be $225, and a half would be $115.
Typically, our pigs are sent to market at about 250 pounds producing about 160-170 pounds of pork products. For example, a half pig order usually consists of about 23 pork chops, 2 shoulder pork roasts (great for pulled pork), 1 ham, 8 pounds of fresh bacon, 3 pounds of spare ribs, and about 9 pounds of ground pork and/or sausage.
How to Order Brad's Farm Market Premier Pork
Please follow this process when ordering bulk quantities of our pork.
Email Brad's Farm Market at info@bradsfarmmarket.com to reserve your pork.
Submit your $100 non-refundable deposit to Brad's Farm Market at 550 Asbury Road, Churchville, MD 21028.
Brad's will put you in contact with the butcher to discuss your custom cutting instructions.
Brad's will contact you regarding the final price of your pork based on weight due to Brad's.
You will be notified regarding the price for butchering, which is a separate fee paid directly to the butcher and is based on your order.
Your order will be packaged and ready for you to pick up.
Enjoy delicious Brad's Farm Market Premier Pork! Because you can taste the difference between Brad's Premier Pork and "grocery store" pork, you'll say this is the best pork you've ever had!