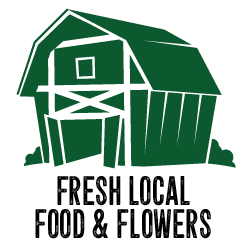 We were sincerely hoping and praying that the crisis had passed before we opened at our normal date for the season.  However, it looks as if we are going to be in this for longer than we originally thought.  As with all of you, this is uncharted territory for us and realize that it requires some creativity and flexibility.
We love our customers and consider all of you a part of "us".  As usual, we couldn't do this without you!  During this uncertain time, we will be doing everything we can to ensure we continue to provide you with healthy, locally grown food.  That means we have certain plans in place.
First and foremost, we are going to limit our hours in April when produce is not as abundant and it's still a little too early to plant spring annuals and veggie plants  We will be open Friday through Sunday only for the remainder of April beginning Friday, April 17.  We will be open 9am-4pm on these days, with 9-10:00 strictly for anyone over 60 and those who are at risk.  All are welcome from 10:00-4:00.
We'll also continue to follow the Food Safety Plan that we have in place and has been approved by the Maryland Department of Agriculture.  We'll have desiginated spaces for waiting in line and will have a different traffic flow to allow all of us to maintain 6 feet of social distancing.  Please look for signs and markings indicating these changes.  We will be disinfecting and cleaning on a regular basis as well as providing hand sanitizer and wipes for your convenience.  We'll have our staff members package items for you.
In an effort to add a layer of comfort and accessibility, we will be adding curbside ordering and pick-up services. You may call to place an order when you pull up (410-734-4769), and we will bring your order to the car! Please know that for logistical reasons, orders cannot be placed via email and/or social media.
We are taking this virus very seriously as well as our job to provide safe, healthy, locally-grown food to our community.  We believe that it's now more important than ever to know who grows your food.  We miss all of you and are looking forward to seeing you – in groups of 10 or less. 🙂 We will get through this together.